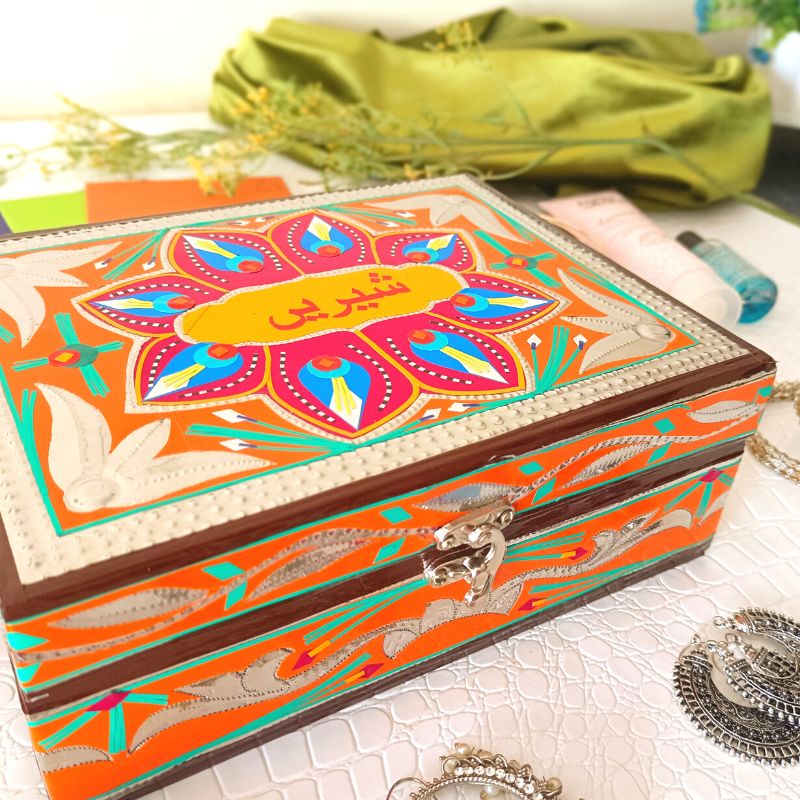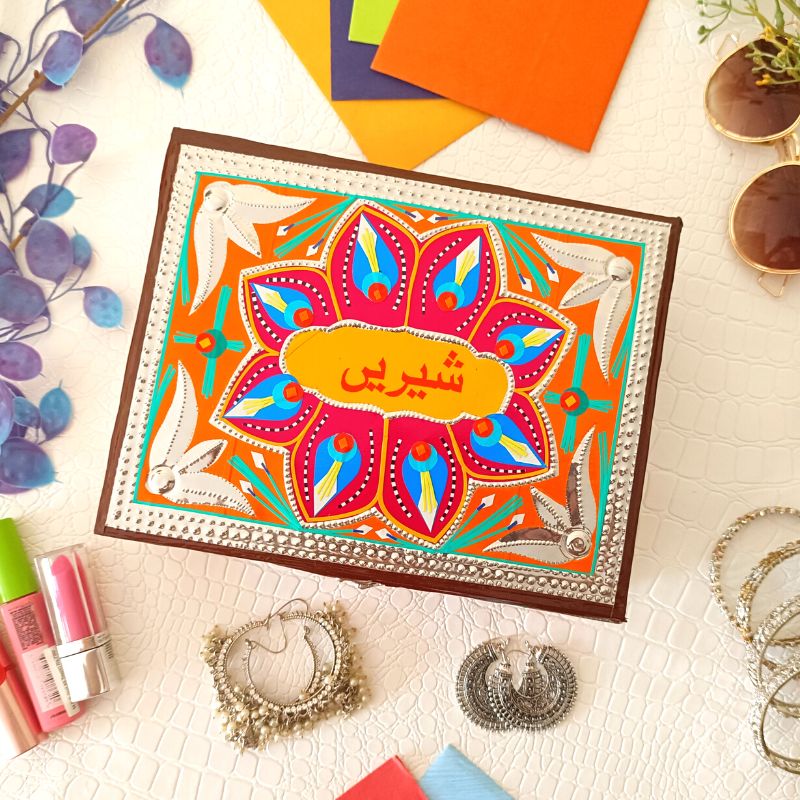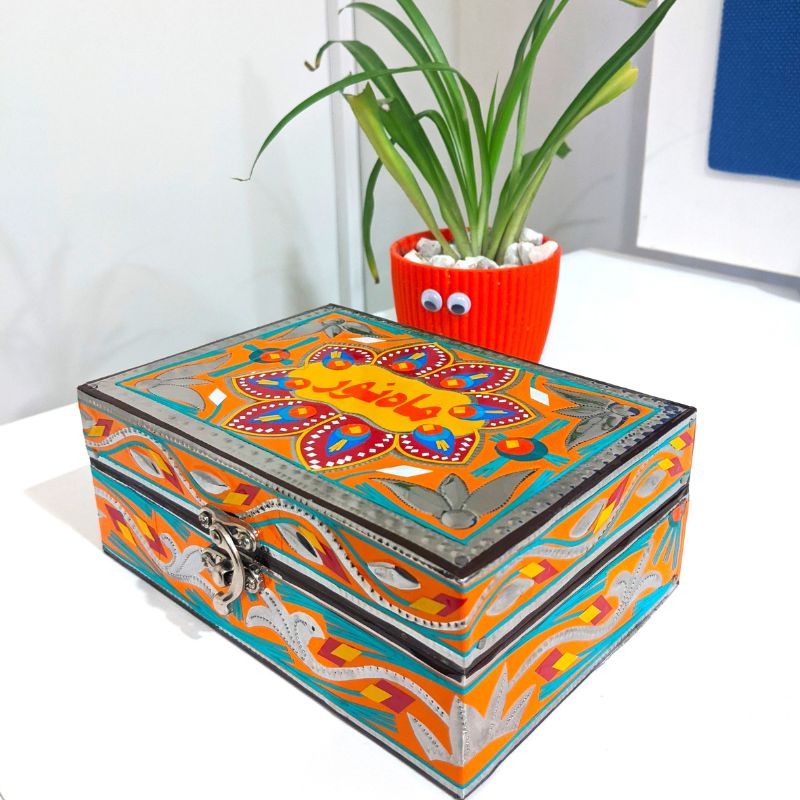 Orange Truck Art Inspired Personalized Jewelry Box
Rs.2,599.00
Regular price
Rs.2,799.00
off
Description
100% Handmade
Material: Wood, Hammered Metal and Stickers
Size: Small 7 inches Length 2.5 inches Height 5 inches Width
Large: 9 inches Length 3.2 inches Height 7 inches Width
Order Detail: Made to order
Processing Time: 8-13 Business Days

Shipping:
Standard: 3-7 Business Days
Description:
This Jaw-dropping, vintage-inspired and fashion-forward jewelry box is a dream come true for every woman. Like diamonds are forever, this shimmering chamakpatti truck art inspired jewelry box is meant to last its impression for a lifetime! You can put your finest pieces of Jewelry in this beautiful box and flaunt it to your friends & family. It comes with an attached mirror that you can use to see how beautiful you will look with those pieces of Jewelry. We have especially designed this box keeping in mind how precious jewelry is to women! A perfect combination of elegance and truck art fusion, ideal for gifting!
Shipping
Processing Time: 5-10 Business Days
Standard: 3-7 Business Days
FAQs
Q) What is the origin of truck art?
 A)The idea of Truck art original in the late 1970s when European and American tourists took back photographs they have taken of heavily decorated and painted Trucks and buses on the streets of Pakistan.
It has evolved as a radiant genre now being very popular.
Q) What is CHAMAKPATTI?
 A) Chamakpatti is the name of an art-form particularly referred to the shiny colorful sticker sheets we see on buses, trucks and rikshaws in Pakistan. A lot of products are made purely with this sticker art which gives it a cultural and authentic truck art look.
Q) What is HANDPAINTED?
A)Hand painting is a process of
putting paints on surface/material. All the design and elements are purely
made with using oil or acrylic paints. Its long-lasting and has a pungent smell.
Q) Are CHAMAKPATTI products washable?
A) NO. They are not washable. However, they can be cleaned with a damp cloth.
Q) Are HANDAPINTED products washable?
A) Yes. Most of them are. All
Handpainted items on Silver, steel or ceramic are washable. No Handpainted product on a wooden surface is washable.
Q) Is CHAMAKPATTI sticker work long lasting?
A) It definitely is. It is the same
art form you see on buses/rikshaws in Pakistan. They go through all kinds of
weather and the sticker remains intact. Similarly, all our Chamakpatti items
are made for usage with cleaning instructions. They are meant to last a lifetime if used with care.
Q) What is a CARE INSTRUCTION card?
A) A care instruction card is sent
with all our packages to the customers. It is there to guide our customers about how to use and care for a particular product. It has all the required
details.
Q) If I receive a damaged product? What is the process?
A) Although we make sure that all our products are bubble wrapped and safely packed but sometimes due to courier
mishandling, damage can occur. We have a very open return policy. It is advised to take pictures and videos of the damaged product and share with us. We take quick action based on the damage and you can get a new item in return. The damaged item is not to be thrown but safely packed with you so we can get it picked for claim.
Q) My product is NOT as I see in the picture, there are some alterations. WHY?
A) The products are completely
handmade. Every product is made from scratch by our skilled team of artisans.
Imperfections are part of our process and they make our handmade products even
more beautiful. Our teams try our best to maintain same design guidelines but there are chances of minute design/color changes as part of the hand process. A product CANNOT be returned on these minute changes.
Q) Do you take advance payment for your products?
A) YES. For some of our products 100% advance payment is required. It however varies from product to product. It mostly applies to high involvement products like Suitcases, Tea Trolley and tables. It also applies to most customized products especially customization coming from the customers end. The customization can be in color, design, craft and etc. Even a little change asked by a customer results in taking 100% advance payment.
Q) Are customized products
refundable?
A) NO. Customized products are
non-refundable, non-exchangeable. (Unless there is a design/color/name mistake
from our end)
Q) Are Handpainted Shoes refundable?
A) NO. Handpainted shoes are
non-refundable, non-exchangeable. (Unless there is a design/color/name mistake
from our end)
Q) Where are your products made?
A) All our products are produced in Karachi,
Pakistan. We are a proud Pakistani company and we ONLY used locally
manufactured items and raw material.
Q) Where is our brand operated from?
A) Karachi, Pakistan.
Q) How long does it take for a
product to reach me?
A) Our standard manufacturing time is 0-14 days (mentioned on our website with every product). Shipping time is 3-5 days.
Q) Why was my order cancelled?
A) Order cancellations are based on various reasons: If the customer tries to cheat the
system in any way, our system cancels the order and put the respective customer in fraud.
If the customer tries to avail a
discount on an already LIVE sale.
If the customer after placing the
order does not confirm the order or is unreachable.
If the customer has entered an
invalid number and he is unreachable.
If the customer after confirmation, refuses to receive the parcel.
If the customer disagrees to any
of our policy
Orange Truck Art Inspired Personalized Jewelry Box
Rs.2,599.00
Regular price
Rs.2,799.00
As always beautiful product, packaged nicely though delivered a bit late.
Actually I ordered this as a gift for my friend. Overall look is amazing. I'm satisfied from the customised name option. But it is very costly. It seems that some sort of sticker are attached on the box. So quality of design is ok. I hope it will be durable.
The jewellery box I ordered wasn't available so I had to cancel it. Received other stuff and was satisfied with the products.
Awesome art work
Loved everything to bits. Hat's off to you both for bringing truck art in shape of items. Hope you will get this registered to Amazon or Daraz too.